We have developed a web-based source code browser.
Your source code is analyzed for its symbols and dependencies. A generator will then create an annotated version of your code as a HTML+Javascript website. The website has fancy tooltips and IDE-like functionality.
Check out the sources or a sample website with a lot of browsable code.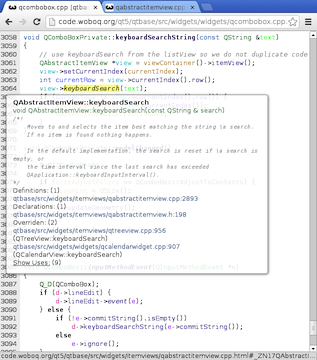 Related:
Jazoon 08 (Java Conference in Zurich) - Google Web Toolkit
Unobtrusive JavaScript: Separating Scripting From Markup
Are you interested in reading more from CodingClues?
Then subscribe to new postings via RSS or via E-Mail.
blog comments powered by

Disqus